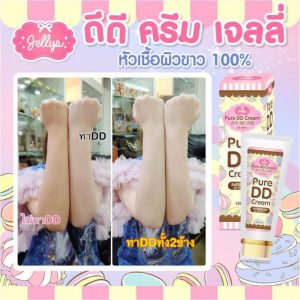 The body nourishing product with sun protection for smooth and youthful skin
Pure DD Cream by jellys is the innovative body nourishing product. The cream contains extracts from Korea for an immediate aura bright skin after application. It also protects skin from sunlight with SPF 100 PA +++. Just apply onto skin, there will be a small drop of water coming out. It is waterproof and sweatproof with no stain during the day. It truly nourishes skin to be radiant and glowing all day long. Daytime application will promote a smooth skin, while nighttime application will promote an aura bright skin. Pure DD Cream by jellys is the 3 in 1 product with sun protection, waterproof, and skin nourishing effects.
Promotes natural aura bright skin immediately after application
Easy to apply like lotion with no sticky feeling
Provides waterproof, rainproof, and sweatproof
Leaves no stain during the day
Apply on a regular basis for radiant skin
Contains the main ingredients imported from Korea such as snail extract, horse oil, Korean ginseng
Causes no gray or over-whitening looking skin
It provides Vitamin A to generate skin cells and promote the immunity for strong skin and hair. Vitamin B2 promotes beneficial process for skin. It is a powerful antioxidant that reduces the deterioration of skin cells in the body. In ancient times, milk is mixed with skin care products, so the skin is moisturized and not dry or rough. It is known that molecules in the milk can be absorbed into skin quickly.
It is a powerful antioxidant that moisturizes skin to prevent the formation of new free radicals. It also repairs damaged skin cells and provides anti-aging effect to effectively treat acne and acne scars, diminish wrinkles, tighten skin, and increase elasticity to skin.
The pure oil extract from horse is mostly extracted from the skin of the tail and its mane. The oil is enriched with Ceramine which has similar properties to the human body oil. The horse oil has been used since ancient times to reduce inflammation of burns and scald and nourish skin to be moisturized.
It functions in destroying free radicals of oxygen caused by lipid oxidation. This free radical can damage the tissues prematurely. It also helps improve skin to be tight, youthful, soft, and moisturized. Moreover, it prevents wrinkles, slows down wrinkles, and stimulates the blood circulation under skin for glowing skin.
It's the acid present in the fruits. It's a group of organic acid that can be extracted from a variety of methods such as from citrus or sugar cane. The difference of use depends on the percentage of use. If we use AHA in a low amount such as 5% – 10%, it can be used to exfoliate skin cells and can be used daily. And if it is 20% – 50% of AHA, it's needed to control the use as AHA with high concentration will be more effective but can cause side effects. The benefit of AHA is to exfoliate skin cells and stimulate skin cells renewal. The skin will be radiant and smooth with reduction of melasmas, freckles, dark spots, hypertrophic scars, and premature wrinkles.
It is an antioxidant that cells in the human body can synthesize itself. It is a protein that protects the tissues from being damaged by free radicals accumulated in the body parts. It can also inhibit tyrosinase enzyme and lead the pigmentation of skin to change from the blackish brown to be pinkish white.
It is a vitamin that provides antioxidant to protect skin cells from free radicals, which is the cause of cell degeneration. It also helps skin function more effectively, resulting in reduction of wrinkles, dark spots, and acne scars. It is a vitamin that is used to treat redness, acne scars, and acne holes.
It has properties in dispersing pigmentation by spreading the pigment under skin that holds together in a dense mass to spread out to the bottom of skin. It also speeds up the renewal of skin cells gently as well as enhances the synthesis of collagen and elastin that help tighten skin. So it's effective in promoting skin radiance. It also promotes effective skin cells renewal, revealing new radiant skin.
It is an antioxidant that helps reduce wrinkles, tightens skin, prevents UV rays from sunlight, and improves the collagen of skin cells, which is the protein fiber in dermis skin that promotes skin to be healthy and beautiful. Moreover, vitamin C helps synthesize collagen which has properties to heal wounds faster.
Apply onto skin before sun exposure daily or during the day.
Ingredients:
Cyclopentasiloxane, Titanium Dioxide, Dimethicone / Vinyl Dimethicone Crosspolymer, Cyclomethicone, Isononyl Isononanoate, Cyclotetrasiloxane, Aluminum Hydroxide, Dimethicone / Methicone Copolymer, Diazolidinyl Urea, Methylparaben, Propylparaben, Propylene Glycol, Perfume
FDA Registration Number: 10-1-5876716